Fantastic end to our first tier of Mythic thanks to everyone who made this possible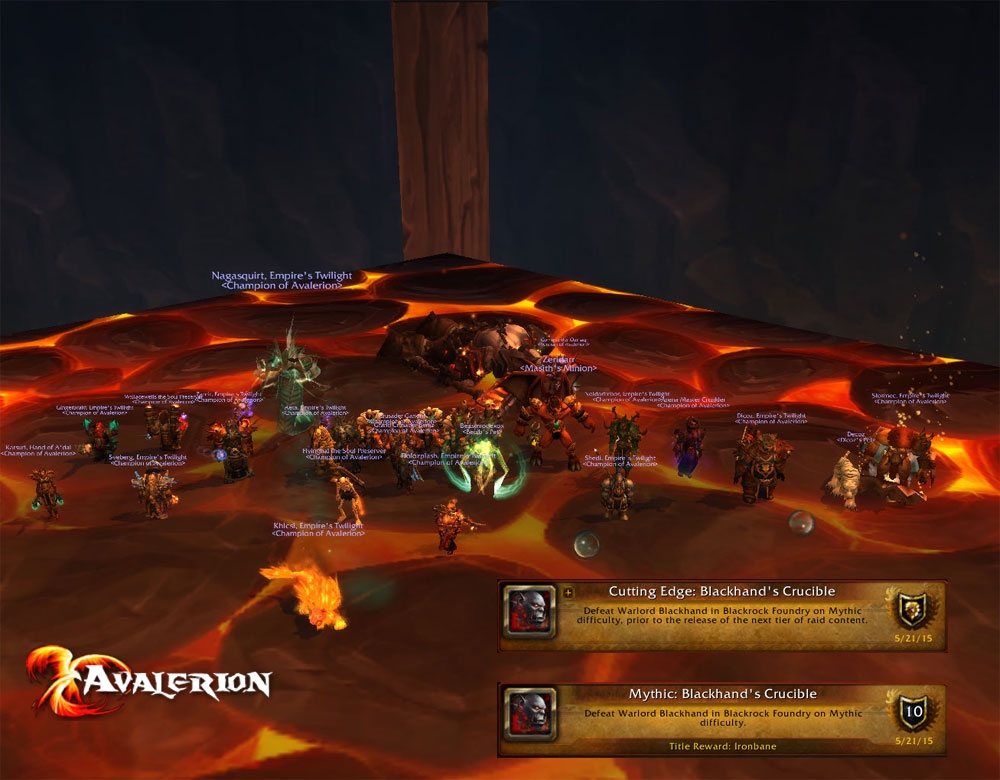 Officer
Posts: 2470
Joined: Wed Apr 29, 2009 6:59 pm
Main Character: Masith
---
Grats guys and very nice rank to boot!

Retiree
Posts: 218
Joined: Wed Mar 10, 2010 10:45 pm
Main Character: Oniisama
---
Massive grats guys! Up to Hellfire i say!
Fool me once, shame on you. Fool me twice, shame on me!
Retiree
Posts: 253
Joined: Sun May 16, 2010 10:12 am
Location: Belgium
Main Character: emalkay
---
Congratulations! I know one and all worked really hard for this one, fantastic "step-up". Bravo

Ninjapest

Retired Officer, Tank, and occasional Furylol to Avalerion.
Retiree
Posts: 2689
Joined: Mon Jan 05, 2009 9:56 pm
Location: Somerset, England
Main Character: Ninjapest
---
Wow Awesome job as always! Big thumbs up for you

Retiree
Posts: 134
Joined: Fri May 30, 2014 10:36 pm
Main Character: deebee
---
I really wanted the announcement to be: "A smashing performance and floorless teamwork to get this down in so few pulls. Everyone can give themselves a hand", or similar...
...but congratulations are also in order

Member
Posts: 1404
Joined: Mon Aug 15, 2011 2:56 pm
Location: Essex, England
Main Character: Sicarius
---
---